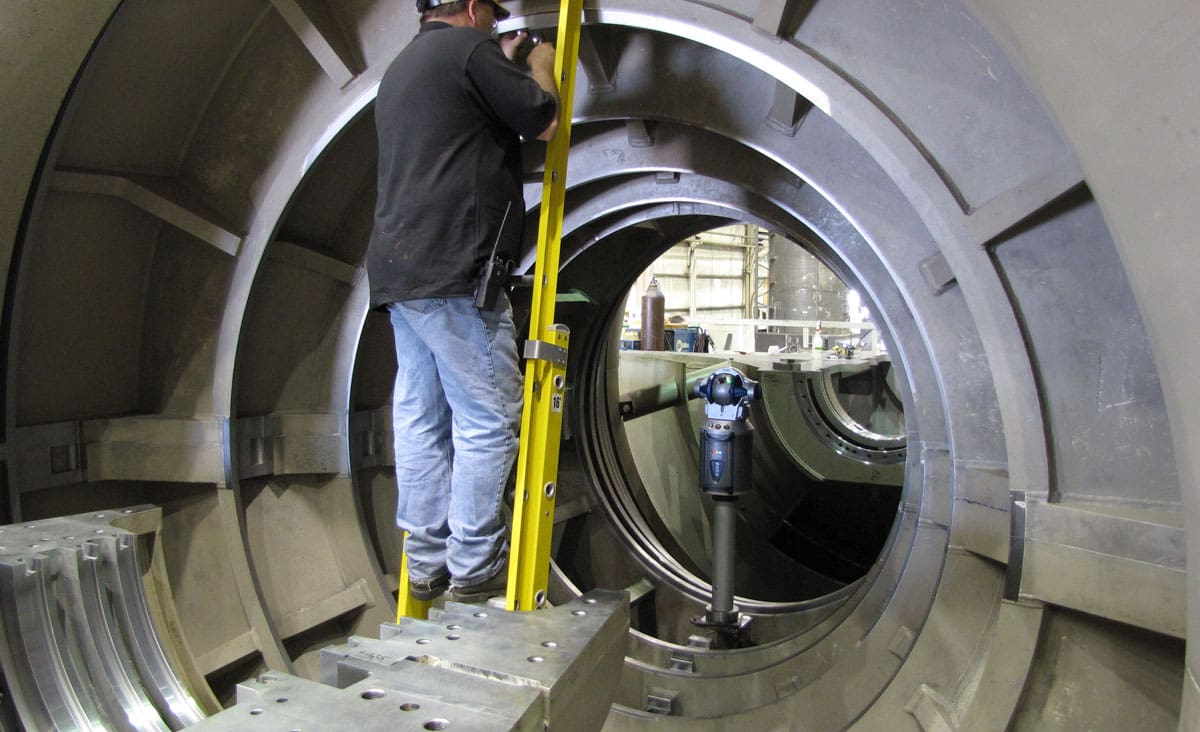 Quality is our #1 Product.
Our Director of Quality Control is responsible for ensuring our Quality Management Standards are met throughout our organization.  WFM holds multiple certifications including AISC, ISO 9001:2015, and NAVSEA, and our Quality Program must comply with all.  Ongoing internal audits, continual improvement training, and enforcing these systems on the shop floor is a large and important task.
Our Quality Control Manager leads our team of certified NDE/NDT fabrication and machining inspectors on the shop floor. Warren Fabricating certified NDE inspectors can perform inspections in the magnetic particle, liquid dye penetrant, visual and ultrasonic disciplines. All inspectors are trained and certified based on Warren Fabricating Written Practice which is written in accordance with ASNT SNT-TC-1A.
In addition to NDE, we have the capability of fabricating components within 1/16 of an inch and machining within 0.001". Standard fabrications are typically verified dimensionally using certified tape measures and machined features are inspected with calibrated micrometers, thread gauges, profilometers, laser trackers, etc. Using our FARO laser tracker with six degrees of freedom (6DOF) attachment, we can accurately measure and map any component produced within our facility. This process allows our Team to produce 3D data points which can then be overlaid onto a part model for dimensional compliance verification. A deeper dive into our capabilities of each is listed below.
Each job ships with a complete "Quality Data Record" package which includes the following:
QUALITY OVER EVERYTHING...
QUALITY MANAGEMENT SYSTEM
ISO 9001:2015
Warren Fabricating Corporation is ISO 9001:2008/ISO 9001 2015 accredited organization for the fabricating, machining and assembly of items for industrial markets. Attaining our ISO certification in 1994, WFM has developed a mature and ever-evolving Quality Management System focused on continual improvement. The advantages this certification provides to our customers strengthens our relationship with solid reporting and communication, more reliable production, scheduling, and deliveries, minimizing mistakes while providing better quality products and service. Our Director of Quality Assurance leads the Quality Control Team administratively, facilitates customer quality audits, continually updates & trains on newly developed QC procedures as well as leads the certified in-house audit team.
War Fab's AISC certification has opened doors to allow for the fabrication of structural steel which is used in the erection of the world's strongest buildings. War Fab has adhered to the strict and precise program criteria to a tee. Our team employs the personnel, justifies the organizational needs and experience, documents procedures, has the knowledge, invested in equipment, and has been committed to quality to perform fabrication, manufacturing, and/or erection. We build quality from the start by focusing on error prevention rather than error correction. 
The American Welding Society (AWS) develops and issues standards for the process and application for welding various steel materials and are approved by the American National Standards Institute (ANSI).
The Naval Sea Systems Command (NAVSEA) is a more complex and targeted set of codes and standards approved for the U.S. Navy's fleet of ships, submarines, and combat vessels, and for the defense industry.
Warren Fabricating's Quality Control team issues approved standard and customized welding procedures to their fabrication team. WARFAB employs certified welders and conducts rigorous training and certified inspections to deliver outstanding quality. Our in-house NDT/NDE certified inspectors ensure quality in every step of the process.