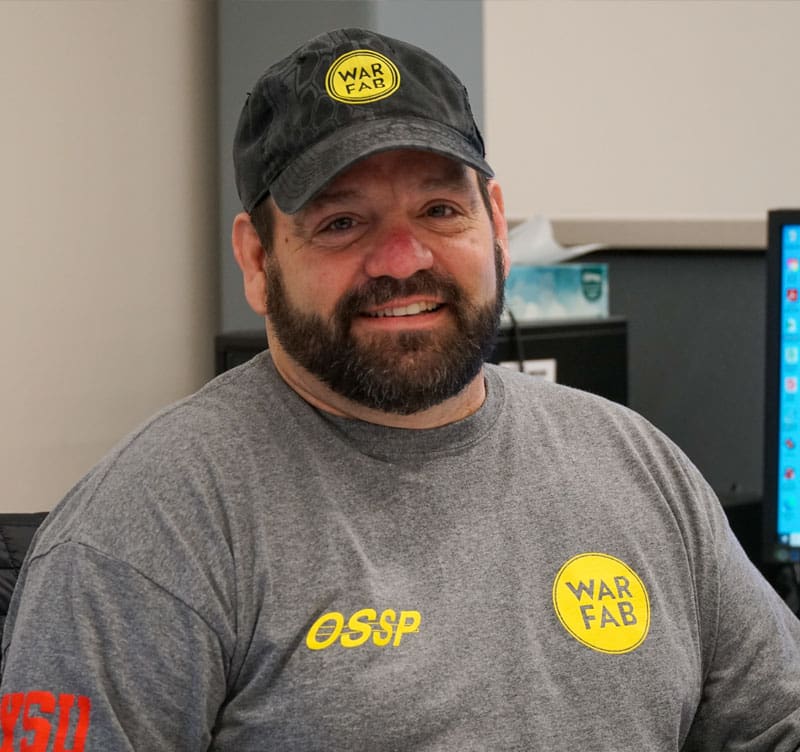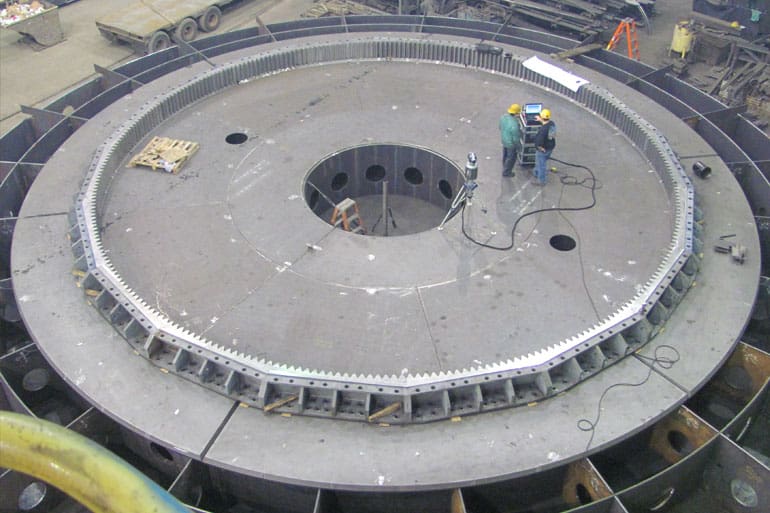 Each fabricating bay has multiple fitting stations equipped with individual overhead cranes and part kits so that our fitters have all the equipment and parts necessary to precisely fit our burned and beveled components. Every move is made based on our customer's specifications
Our 255,000 sq ft large fabricating bay is equipped with one 250 ton, two 150-ton welding positioners, which allows for 360-degree rotation of, both the X and Y axis for a flat welding position that allows us to weld parts as wide as 25 feet and diameter. This is where we lay out the burned, beveled, pressed, rolled raw material, according to our customer specifications. Our experienced fitters fit the piece parts, inspect and weld thousands of parts into place. 
Our 45,000 sq ft medium-sized fabricating bay is equipped with over a dozen positioners from five ton to over 90 ton so that we can precisely weld smaller fabrications. This is a great example of why we can build better than anybody else.  Our weld positioners help us make sure each piece can be welded in a flat position as we move through the fabricating process. After the product is fit and inspected, it moves into the welding phase.  Many projects take thousands of welds, and we have what it takes to ensure the process is seamless
Warren Fabricating can perform high quality, sound (UT/RT quality) welds in CJP and PJP joint configurations utilizing GMAW, FCAW, SAW, SMAW and GTAW processes. A vast array of bevel angles, bevel designs and joint configurations are used and vary based on product design and customer requirements. Our experienced, certified welders regularly produce high quality welds that are acceptable per the requirements of AWS D1.1, ASME Section VIII and NAVSEA TP278.  Welded material thickness ranges from 1/8" to unlimited on the large fabrications involving carbon, HSLA, stainless and nickel steels, weighing up to 300,000 lbs., produced at Warren Fabricating. All welding is performed within the parameters of an approved WPS backed by a proven PQR with all testing performed at an accredited laboratory. In order to maintain pre- and post-heat during the welding process, natural gas torches, belch fires and resistance heating pads and induction heating coils. Most common are the Stresstech resistance heating pads, which Warren Fabricating had custom made in order to provide constant, uniform heating and cooling of the fabrication before, during and after the welding process. These pads and cables are attached directly to the fabrication and can remain on and functioning throughout the entire welding process if necessary. Localized PWHT up to 1400 degrees F is possible using either option.
Medium & Large Fabricating Bay Equipment